Candela Lasers
Syneron Candela, the most trusted name in Aesthetic Lasers
USED, CERTIFIED & WARRANTED!
Derma Laser Aesthetics Pakistan is a proud provider of pre-owned Candela Laser machines, providing the most advanced solutions for a wide range of medical and aesthetic applications.

100% Certified Aesthetic Lasers
Aesthetic laser machines certified and warranted by our in-house technicians

Flexible Payment Plans
We have extremely flexible payment plan for our customers which meet your pocket

Strict Refurbishment Process
All laser devises are refurbished to our strict Certified Refurbishment Process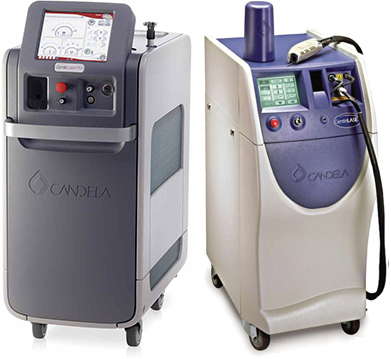 Derma Laser is a proud provider of pre-owned Candela laser machines, providing advanced solutions for a wide range of medical and aesthetic applications.
Purchasing a used Candela laser from Derma Laser allows your practice to offer quality care and state of the art technology to your patients, while significantly enhancing your profits.
Used Candela lasers provide advanced solutions for body contouring, hair removal, wrinkle reduction, treatment of benign vascular and pigmented lesions, acne, cellulite, and more. Our certified refurbishment process gives you the peace of mind that your used laser machine has been inspected, thoroughly tested, and refurbished by an on-site, full-time technicians.
Throughout its history, Candela's commitment to innovation and quality has helped to make laser treatment as safe and easy as electrolysis, botox and other aesthetic procedures.
Our technicians are fully trained in Candela's advanced laser technologies, including the 755 nm Q-switched Alexandrite laser machine, Candela's proprietary fractional CO2 system, and other popular pre-owned Candela lasers.
Available Used Candela Laser Machines
Candela GentleLase and Candela GentleLase Pro
The Candela GentleLase series of products sport a long-pulsed 755 nm Alexandrite laser, and Dynamic Cooling Device (DCD) to keep skin cool during treatment. The GentleLase's featured wavelength is extremely effective for treating patients with lighter skin types, where there is more contrast between skin and the targeted hair or dermal lesions.
The GentleLase is a broad, flexible platform, featuring a number of versatile handpieces, as well as adjustable spot sizes ranging from 6 to 18 mm, allowing for truly individual, customized treatments. This is especially useful for sensitive, difficult-to-treat areas of the body, such as the lips, ears, underarms, and bikini lines. The most popular treatment associated with the GentleLase is facial and body hair reduction. Most hair reduction patients require six to eight treatments, spread over a period of six to ten months. Clients experience lasting reductions averaging 80% to 90%, making it one of the most effective treatments on the market.
However, hair removal and reduction are only the tip of the air-cooled iceberg that is the DCD-powered handpiece. Other effective treatments include the following:
Diminishment of pigmented lesions
Reduction in the visibility of wrinkles
Treatment of fine facial veins
Treatment of pigmented spots caused by age and sun exposure
Removal of freckles
Reduction or removal of large birthmarks, such as port-wine stains and cafe-au-lait spots
Removal of vascular lesions, growths, and birthmarks, such as hemangiomas and venous lakes
Candela GentleMax Pro
It would be an understatement to say that the GentleMax is a broad treatment platform. Entire practices have been built around the use of this single system since its original introduction to the United States in 1997. To give you an idea of the GentleMax's breadth of treatment options, here is a list of only some of the treatments for which the GentleMax Pro is indicated:
Pigmented lesions, including lentigines, brown spots, freckles and age spots
Skin damage, such as that resulting from age, or sun and wind exposure
Vascular malformations and lesions, including hemangiomas, spider veins (telangiectasia), and unsightly leg and facial veins
Facial and body hair removal, including for the treatment of pseudofolliculitis barbae (beard bumps)
Nail fungal infections, such as

 

onychomycosis

 

and

 

tinea unguium
Reduction of diffused redness and the appearance of rosacea
The broad applications of the GentleMax are thanks to its dual-laser system, which incorporates a 755 nm Alexandrite laser, and a 1064 mm wavelength Nd:YAG laser. These lasers are highly customizable, with spot sizes including 6, 8, 10, 12, 15, and 18 mm. Additionally, a Specialty Delivery System option is available which features spot sizes of 1.5 mm and 3 mm, for the treatment of pigment spots and vascular lesions. The duration of the pulses delivered by the lasers are tunable to the microsecond, allowing for specialized treatments targeting conditions on a wide variety of skin tones and colors. All of these adjustments can be managed via the full-color touch screen, which makes it easy to determine at a glance the current fluence, spot size, pulse duration, and more.
The Candela GentleMax Pro offers a choice of two handpieces.  The Dynamic Cooling Device (DCD) handpiece delivers bursts of cryogen gas before and after each laser pulse, to maintain a consistent and comfortable skin temperature during treatment. The second option is the Air Cooling Compatible (ACC) handpiece, which uses the continuous delivery of cold air to the treatment site to prevent uncomfortable heating or burning of the skin.
Candela GentleYAG
Occasionally, clinicians run into clients who respond poorly–or fail to respond at all–to procedures involving a number of different makes and models of lasers. The GentleYAG was developed with these 'difficult' customers in mind. The variable pulse Nd:YAG laser powering the GentleYAG operates on the 1064 nm wavelength, with an extremely high fluence of up to 600 J/cm2, making it ideal for treating customer conditions that otherwise fail to respond to treatment involving competing products.
While the GentleYAG is a specialized tool, its applications are broad. Its most popular use is for permanent hair reduction, including the treatment of PFB (beard bumps). However, it also operates on a wavelength useful for the removal of  telengiectasias, reducing the visibility of skin wrinkles, and eliminating undesirable veins on the face, legs, and elsewhere. It's ideal for practices that offer skin tightening protocols that target the delicate skin of the face and neck, and performs well on all skin types, including tanned skin, and darker skin colors–the GentleYAG performs particularly well on olive-colored Mediterranean complexions.
In addition, advanced practitioners with a great deal of experience have seen excellent results when using the Gentle YAG laser for laser peels. This is usually done in conjunction with carbon powder. Typically, this specialized procedure is used to reduce the size and visibility of facial pores, as well as the lightening of skin color and overall improvement in dermal texture.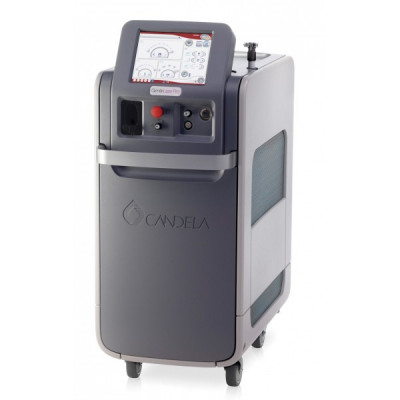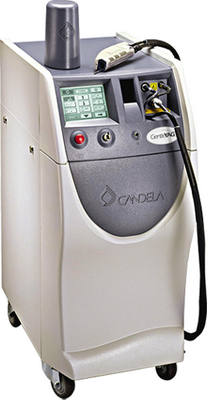 Let's Talk!
Have questions, want to purchase, need quote, then Contact us